Welcome!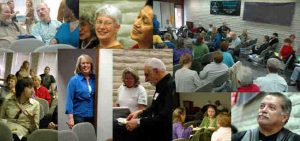 "[Our mission] is to provide the employees of Central New Mexico Community College (CNM) with strong and supportive union representation. Union officers and members strive to maintain an open and honest relationship with all parties at CNM who impact our terms and conditions of employment. We work together for professional standards, professional compensation, and mutual respect."
~ Mission Statement by Donna Swanson, Founding Member and first CNMEU President.
CURRENT MEETINGS
Mondays at 6:30pm Zoom Meeting
Join Zoom Meeting
https://us02web.zoom.us/j/2703462582?pwd=RkphUDNCWmF2ZDkwejF2VGFYVXVUQT09
Meeting ID: 270 346 2582
Passcode: 3FKqVk
All union members are invited and welcome to attend!
Workload Survey
Please complete the Workload Survey
Membership Information
YOU CAN JOIN CNMEU if you are employed at CNM in any of our three organized "bargaining units": Full-Time Faculty, Part-Time Faculty, or Instructional Support.